OUR COMPANY
PHILOSOPHY OF A GREAT GROUP
FRECARN, a company that has specialised for more than 50 years in natural, prepared and cooked meat produce, belongs to an established corporate food group comprising a number of companies, all with extensive, consolidated experience in the sector.

This structure allows FRECARN to achieve the utmost control over every stage of the process, so as to deliver the highest quality to our clients.
FRECARN stands out for offering versatility in the products it offers, with its output capacity allowing it to develop meat produce in every format required.

FRECARN has established its presence in the leading international markets, with a constant commitment to quality and service, focused on satisfying our clients' needs.
OUR VALUES
In FRECARN we orient our activity to a very clear philosophy: contribute to a high added value to our clients and to a constantly improvement of our products. That is why we rely on: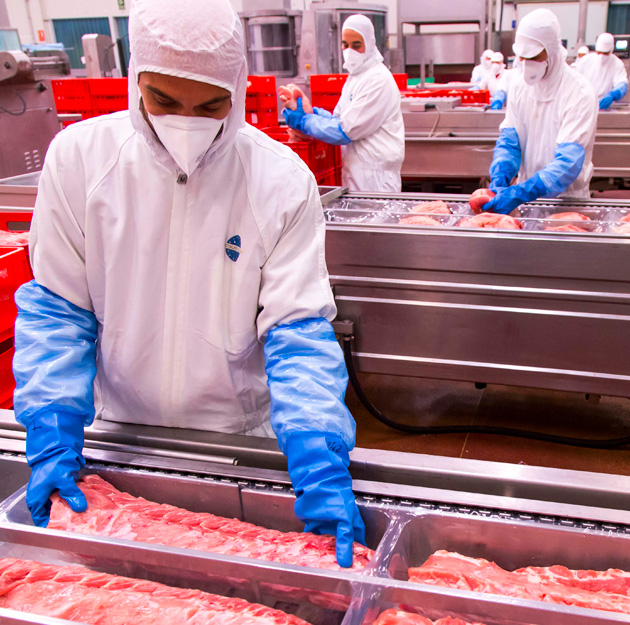 1/3
Experience

OUR STAFF

The different areas of the company are all focused on a shared goal: to offer our clients the very best produce, service policy. Which is why we have put in place a workforce with extensive experience in the sector.
OUR STAFF

INNOVATION

QUALITY
2/3
Continuous improvement

INNOVATION

Our capacity for innovation and the adoption of new technologies allows us constantly to enhance our product range, adapting to the specific needs of each client, and new consumer trends.
OUR STAFF

INNOVATION

QUALITY
3/3
Guarantees and safety

QUALITY

All our operations are performed in accordance with periodic safety controls, following a Hazard analysis and critical control point (HACCP) system and applying BRC regulations, with the aim at all times of adapting to market demands.
OUR STAFF

INNOVATION

QUALITY
FACILITIES
FRECARN has modern facilities that are constantly renewed with the very latest technology. This allows us to improve our results and surpass the commercial expectations of our clients, in response to consumer demands.
PARTNERSHIP
FRECARN's experience, combined with the cooperation of our clients, allows us to create specific products tailored to every need. We offer considerable flexibility in adapting both products and packaging to our client's stated needs.